Home Page content
Dell Ann Channels Patsy Cline at the 50th
---
What a photogenic group! These are the class photos taken at our 50th Reunion: 37 women and 34 men. Wow...what a turnout!
Let me know if you did not receive these pictures from me through your personal email address.
Carolyn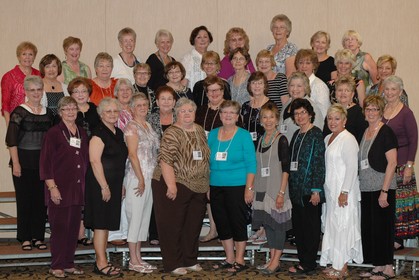 Back Row: Susan Pierson Redstone, Margaret Hughes Hayes, Cynthia Wilmoth Smull, Anita Gustafson Link, Linda Grant Peterson, Diane Batcheller Wilkins, Dixie Hays Covington, Val Hoover Stuessi, Carol Betzen Austin
3rd Row: Janet Larson Monson, Margaret Burch Zimmerman, Naomi Anders Ford, Donna Brown Miller, Janice Sawyer Clark, Judy Hamann Reed, Joan Rankin Finney, Barbara Stucky Ratzlaff, Dell Ann Larsen Dyar, Karen Koch Konnesky
2nd Row: Genelle Mohler Krehbiel, Deana Everhart Larson, Mary Ann Walline Scott, Mary Lois Buell Wilson, Carol Newton Peterson, Paulette Bughman Larson, Anita Ledell Morse, Judy Stowers Shipman, Carolyn Geiman Wilson
Front Row: Kate Peterson, Marilyn Wisdom Logbeck, Deloris Pritchard Shannon, Kay Clark Harman, Linda Little Griffin, Kathy Holecek Hill, Sandra Schrag Zerger, Annette Miller Smith, Carol Kemp Engelland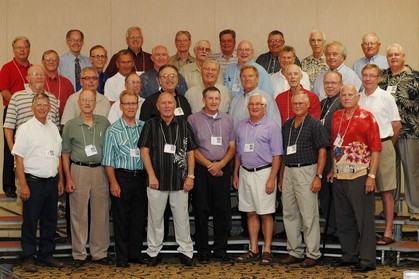 Back Row: Dean Elliott, Wayne Ford, Tom Garrelts, Donnie Schrag, Lenny Miller, Gary Peterson, Lane Yoder, Johnnie Dossett
3rd Row: Jerry Unruh, Dennis All, Jim Decker, Bill Mills, Rick Lawrenz, Larry Morlan, Dennes Frederick, Dick Leach, Glen Shipman
2nd Row: Gary Bruce, Roger Jantz, Derek Greatorex, Kenneth Heitkotter, Ralph Barr, Bob Smith, Larry Hapgood, Delbert Sheets, Eddie Johnson
Front Row: Verlyn Uhrig, David Larson, Graydon Houston, Ed Ollek, Joe Ledell, Mike Rausch, Eddie Reynolds, John Turner
---
Fifty Years Ago Today (May 23, 1962) . . . We Graduated!
I was honored to give the Class Farewell at our Senior Awards Assembly on May 18, 1962. I remember how seriously I approached the writing of this momentous document. And how proud I was to deliver it, as I meant every word of it.
However...I now must make a confession. I did not write the poem that I quoted, AND I did not cite the poet who wrote it. (Did I miss that in Mrs. Matson's class, or did I shamelessly commit plagarism? Maybe I didn't know who wrote it? I don't know.) Courtesy of the internet, I just discovered it was written by the author Kalidasa, the "greatest of Sanskrit dramatists," who died in the 5th Century. Sorry, Kalidasa.
This is the Farewell:
We finish to begin. Today marks the end of our high school career. We will remember with mixed emotions our last basketball game in our crowded little gym, the last time we loyally stood to sing the school song, the CKL championships, the trips to State. We have left our mark on the school by our musicals, our class plays, our senior assembly in memory of the "Spirit of '62." M-Club initiations, the red and white on game days, the Junior-Senior prom we planned and the one we attended as honored guests, the detentions, the last-minute studying for final exams, the auditorium seats with loose arms and missing numbers--these too will live only as vivid memories of MHS. We may come back, but never again will these sacred halls be the same to us. Never again will we have it so good.
But now is the time for commencement. There are places to go, people to meet, things to do, goals to achieve. We must now enter the larger school of Life, a school from which there is no graduation, no diploma. We, the Class of 1962, enter this new frontier with a strong foundation built upon the experiences we have faced in this, our alma mater.
Look to this day!
For it is life, the very life of life.
In its brief course lie all the verities and realities of your existence:
The bliss of growth,
The glory of action,
The splendor of beauty.
For yesterday is already a dream, and tomorrow is only a vision.
But today, well lived, makes every yesterday a dream of happiness,
And every tomorrow a vision of hope.
Look well, therefore, to this day.
Such is the salutation of the dawn.
With smiles on our faces, but tears in our hearts, we bid you, McPherson High School, a fond farewell.
I just wish we had thrown our hats! Carolyn 5/23/12
---
COLOR TEST
This is pretty neat! See how you do with the colors! Have fun!
It takes an average of 5 tries to get to 100%. Follow the directions!
It's harder than it seems, as it should be! A brain waker-upper for today!
McPherson High School Curriculum, 2012-13
I came across this while browsing on the McPherson ISD website today. Pray tell, how did we fill our days at MHS with our paltry menu of available courses? Surely we didn't spend all our time just learning the basics! Is it possible these young 'uns can succeed in life without Latin? Still, I'd bet our education against theirs any day.
Carolyn 4/2/2012
ACCOUNTING, BUSINESS & MARKETING COURSE DESCRIPTIONS
ACCOUNTING I
ACCOUNTING WORK EXPERIENCE I & II (OJT)
ADVANCED DESKTOP PUBLISHING
BUSINESS ESSENTIALS
COMPUTERIZED ACCOUNTING II
DESKTOP PUBLISHING/MULTIMEDIA
ENTREPRENEURSHIP
PERSONAL FINANCE
SPREADSHEET/DATABASE
WORD PROCESSING
AGRICULTURE COURSE DESCRIPTIONS
AGRICULTURAL BUSINESS
AGRICULTURE MECHANICS TECHNOLOGY I
AGRICULTURE MECHANICS TECHNOLOGY II
AGRICULTURE MECHANICS TECHNOLOGY III
BIOLOGY OF HORTICULTURE/PLANT & SOIL SCIENCE
BIOLOGY OF VETERINARY ANIMAL SCIENCE
EXPLORING AGRICULTURE SCIENCE
AUTOMOTIVE COURSE DESCRIPTIONS
AUTOMOTIVE TECHNOLOGY I
AUTOMOTIVE TECHNOLOGY II
AUTOMOTIVE TECHNOLOGY III
CARPENTRY COURSE DESCRIPTIONS
ADVANCED CARPENTRY TECHNOLOGY
BUILDING TRADES
CARPENTRY TECHNOLOGY
DRAFTING COURSE DESCRIPTIONS
BASIC DRAFTING EXPERIENCES
COMPUTER-AIDED DRAFTING I
COMPUTER-AIDED DRAFTING II
COMPUTER-AIDED DRAFTING III
EXPLORING TEACHING COURSE DESCRIPTIONS
EXPLORING TEACHING AS A CAREER
TEACHING INTERNSHIP
FAMILY AND CONSUMER SCIENCE COURSE DESCRIPTIONS
CAREER AND COMMUNITY CONNECTIONS (11-12)
EXPLORING FACS (9-12)
FOODS I (9-12)
FOODS II (10-12)
HOUSING AND INTERIOR DESIGN (11-12)
NUTRITION AND WELLNESS (11-12)
ON MY OWN (10-12)
PARENTING AND CHILD DEVELOPMENT (10-12)
PREPARING FOR COLLEGE, WORK AND FAMILY (11-12)
TEXTILE CONSTRUCTION (9-12)
FINE ARTS AND MUSIC COURSE DESCRIPTIONS
AP MUSIC THEORY
CONCERT CHOIR
MIXED ENSEMBLE
WOMEN'S CHOIR
JAZZ ENSEMBLE
ORCHESTRA
SYMPHONIC BAND
AP ART HISTORY
AP STUDIO ART
ART I
CERAMICS
DESIGN
DRAWING
GLASS FORMING
JEWELRY
PAINTING
PHOTOGRAPHY
PRINTMAKING
SCULPTURE
FOREIGN LANGUAGE COURSE DESCRIPTIONS
CHINESE A & B
FRENCH I A & B
FRENCH II A & B
GERMAN I A & B
GERMAN II A & B
JAPANESE A & B
SPANISH I
SPANISH II
COLLEGE LEVEL SPANISH
HEALTH COURSE DESCRIPTIONS
HEALTH SCIENCES I
HEALTH SCIENCES II
HEALTH SCIENCES III
HEALTH SCIENCES IV
LANGUAGE ARTS COURSE DESCRIPTIONS
ADVANCED FORENSICS
ADVANCED JOURNALISM NEWSPAPER
ADVANCED JOURNALISM YEARBOOK
ADVANCED POLICY DEBATE
ADVANCED TECHNICAL THEATRE
ADVANCED THEATRE ARTS
AP LANGUAGE & COMPOSITION
AP LITERATURE & COMPOSITION
BEGINNING JOURNALISM
BROADCAST JOURNALISM
COLLEGE BOUND ENGLISH
DEVELOPMENTAL ENGLISH
ENGLISH I, II, III
HUMANITIES I, II
INTRODUCTION TO POLICY DEBATE
MYTHOLOGY
NOVICE FORENSICS
PRE-AP ENGLISH I, II
PUBLIC SPEAKING
SENIOR ENGLISH
TECHNICAL THEATRE
THEATRE ARTS I
THEATRE ARTS II
MATHEMATICS COURSE DESCRIPTIONS
ALGEBRA I
ALGEBRA II
ALGEBRA A
ALGEBRA B
AP CALCULUS I
AP CALCULUS II
CAREER PREP MATH
COLLEGE ALGEBRA
COLLEGE STATISTICS
GEOMETRY
PRE-ALGEBRA
PRE-AP CALCULUS
STATISTICS
PHYSICAL EDUCATION COURSE DESCRIPTIONS
SPEED, POWER & STRENGTH (MEN)
SPEED, POWER & STRENGTH (WOMEN)
INDIVIDUAL ACTIVITIES
PHYSICAL EDUCATION I
PHYSICAL EDUCATION II
TEAM ACTIVITIES
SCIENCE COURSE DESCRIPTIONS
SCIENCE REQUIREMENTS & CORE CLASSES
ANATOMY & PHYSIOLOGY
AP BIOLOGY
AP CHEMISTRY
AP ENVIRONMENTAL SCIENCE
AP PHYSICS
BIOLOGY
CHEMISTRY
PHYSICAL EARTH/SPACE SCIENCE
RE-AP CHEMISTRY
PRE-AP PHYSICS
PRINCIPLES OF TECHNOLOGY
SOCIAL SCIENCE COURSE DESCRIPTIONS
AP HUMAN GEOGRAPHY
AP UNITED STATES GOVERNMENT
AP UNITED STATES HISTORY
AP WORLD HISTORY
AMERICAN GOVERNMENT/ECONOMICS
CURRENT ISSUES
HISTORY I
HISTORY II
PSYCHOLOGY
PSYCHOLOGY LAB
SOCIOLOGY
About High School Reunions
This essay is shamelessly borrowed from the AARP Bulletin, March 2012. They thanked me the other day for being a member for 17 years! No kidding? I got my invitation to join that long ago? I must admit, it is one of my favorite subscriptions, and surely they won't mind if I, such a valued customer, reprint this article. It was written by Anne Rodgers, West Palm Beach, FL, and all the words below are hers:
"Some people faithfully attend school reunions.Others scoff and wonder if it isn't a bit crazy to fly halfway across the country to see folks who, except for maybe three or four, are not acquainted with who you are now and certainly don't care. So why go?
"My high school experience is best summed up as awkward and interminable. Though adulthood has shown me to be a clear-cut extrovert, I was unable to access that quality amid the agony of self-consciousness that drowned me in high school.
"So--once a decade--reunions have become that rare opportunity for a do-over. I can mingle with people I was once too shy to speak to, be friendly, be the person I wanted to be in high school. It's a chance to spruce up outdated recollections steeped in angst-filled teenage introspection and self-absorption. Rewriting history this way has become a big lure of reunions. But it didn't start out that way.
"Because i have not lived in my hometown since I left for college, I went to my 10th high school reunion out of curiosity. I was depressed and a bit horrified to find many classmates still clinging to their outdated cliques: Cheerleaders were still with cheerleaders. Same with the band kids and athletes. I went to my 20th out of perversity, I suppose, with low expectations--and was delighted to discover my fellow grads had come to see that what bound us together was much more important than those small differences that separated us in in high school. It was a fun night.
"My recent 40th reunion included a tour of the old neighborhood by my best friend from grade school. I was shocked to see that the lawn space between his house and the next-door neighbor's was tiny, 4-5 feet. I remember flying kites from that spot and learning to twirl a baton there, in what I'd recalled as a vast expanse. How could all those bright memories fit into such a small space?
"At our high school, where my friend and I were part of the third graduating class, I teared up as we pulled into the parking lot. "Just think, 40 years ago this was brand new," he said. And so were we, I thought. We were embarking on complicated lives we could in no way predict. In that moment, the passage of 40 years was an exceedingly difficult concept to absorb.
"But those experiences are why I'm willing to make the long journey home. What a gift it is to come face-to-face with the tangible reminders of youth, which rekindle those priceless memories."
Personally, I hope you all do decide to come! Carolyn 3/15/12
Were we this popular in high school? Since I got Google Analytics for our website in Sept, 2010, we've had 2,848 different visitors to our website. Who are these people, why are they interested in us, and how did they even find us? Lane 2/11/12
Christmas in Kansas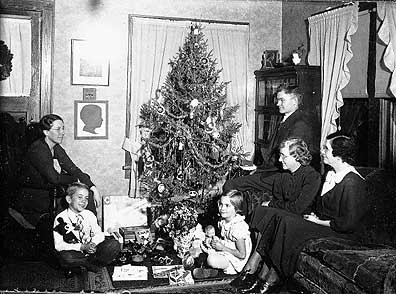 From the earliest settlers in Kansas, there has been Christmas is Kansas. Diaries and letters written in the early prairie days of Kansas offer us a glimpse of Christmas in the hard times of the territory's early history. Many families, even those whose circumstances were meager, usually managed somehow to save, buy, or do something special to celebrate the holiday.
Julia Hand, who with her husband Burton were among the first settlers in Salt Creek Township of Reno County, wrote in her diary on December 25, 1872: "A lonely Christmas to us. No Santa Claus comes here. I pop some corn and boil some molasses candy for the babies." The following year, however, the family's condition had improved, as on Christmas Day,1873, Hand commented: "A Christmas without snow. Santa Claus gives me a set of dominoes and the boys find some candies, raisins, and cookies in their socks. We go over to Mrs. Thompsons and take dinner."
In the eastern part of the state, which was more established in the 1870s, a more traditional commemoration occurred. Harriet E. Adams wrote of her Christmas as a seven-year-old in Marysville in the mid 1870s:
The Christmas which made the first lasting impression upon my mind, I think, must have been the one following my seventh birthday . . . [A]fter dark I would peep out of the window, or out of the door to consider anxiously whether all conditions were favorable . . . enough to support that wondrous reindeer drawn sleigh . . . There was no chimney down which he [Santa] could slide safely . . . My concern on this matter finally reached such a pitch that I took it up with Mother. I told her my fears, and she said he would most certainly be able to leave his gifts, for when no large chimney was provided, the parents would leave the door open a crack at least, so he could push his way in with no difficulty whatever ….
With the settlement of the West and the acceptance of Kansas into the union, things became more settled, and Christmas traditions became more established. In 1936 Jennie Small Owen, a journalist and member of the Kansas Historical Society's staff, took note of how Christmas was celebrated by ethnic groups in their communities. She was apparently hoping to gather sufficient information to write a newspaper article on ethnic Christmas traditions in Kansas, but the responses she received indicated that many of the foreign traditions had already been integrated into a more universal, American celebration. Some of the letters she received describe in detail Kansans' celebrations of Christmas in 1936.
Ruth Gagliardo, Lawrence described her family's ritual: "Breakfast in bed for the kinder while the house warms and turkey is being put in oven etc. so that helper and everyone can share the fun around the tree…. The children don't get loads of things but they do have a happy time. Three of four weeks before Xmas, they begin making simple gifts--calendars, blotters, book marks (last year's cards!) pen wipers, needle books."
Owens gathered information on the Christmas traditions of prominent Kansans of the day. William Allen White, editor of The Emporia Gazette (Emporia, Lyon County), indicated that the White family's celebration did not "differ from the Christmas in any other house in town; a turkey or a goose for dinner in the evening and some friends, Santa Claus in the morning."
Charles M. Sheldon, a Topeka (Shawnee County) Congregational minister and writer, described a typical holiday. "Christmas with us is always a family home day. At the breakfast table we read the story of Christ's birth as told in my own 'Everyday Bible.' Dinner is a family custom often with some invited guests who are alone or without friends near. We have the usual things to eat including homemade mince pie made by Mother. After dinner I usually read a Christmas story, and have one of my own to read this time. We spend the day quietly looking over Christmas cards and talking about the friends who have sent them. We have stopped giving things to the grown ups and don't expect any from others. But if we can find a college girl or boy who is having hard sledding we try to do something for them. We thus save all the worry that so many people have over Christmas gifts."
Christmas in Kansas seems to be a time of giving, family, and neighbors. A familiar theme is that Kansans worry less over the gifts and more over the time with their families. Many traditions from many cultures have swirled together to form the unique Kansas Christmas.
- Taken from kansapedia, the Kansas Historical Society website, http://www.kshs.org/portal_kansapedia
Basketball, pre-Bullpups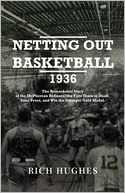 Rich Hughes, brother of Maggie Hughes Hayes, recently released a book on the McPherson Refiners -- the first team to dunk, zone press, and help win the Olympic gold medal. The Refiners team was sponsored by the Globe Oil and Refining Company, predecessor to the NCRA refinery, from 1933 to 1936. Refiners players lived in McPherson, worked at the refinery, and played the best basketball of the era. Fast-breaking offenses, dunking the ball, and full-court zone pressure were important new techniques that radically changed the game. Netting Out Basketball 1936 tells the little-known story of the McPherson Refiners' significant role in developing basketball's faster, dynamic playing style. The book, available on Amazon and Barnes and Noble, focuses on the mishaps and fortunes of the Refiners and three other Amateur Athletic Union teams that placed men on Berlin's muddy clay court in basketball's first official medal competition at the politically charged 1936 Olympics.
Rich lives in Overland Park and is a manager for IBM Netezza.
Carolyn 12/15/11
I Saw Two Backpacks
Today, Dennis All sent me this poem that he had written. I asked if I could post it, and he said I could. It's a beautiful but weighty reminder, as we approach Thanksgiving, to count our blessings, every day.
He says, "I passed by the wreckage going to work and then saw the remains - broken glass and paint scraped from the vehicle - on the way home. Devastating to see it on the news. Extra grief counselors at his school here, and a memorial tonight at the dance studio he attended. I think testaments to the beauty of life through loss that we take for granted is common at this time of year."
I saw two backpacks early in the morning
sitting among the broken glass and litter
on the other side of the highway.
The crushed car had been turned upright,
its missing wheel nearby.
As the traffic plodded by at a funereal pace
our blank faces staring at the scene,
we all cringed as we imagined the horror
of the occupants in the tumbling car
as they slowly realized their final breaths could be near.
We all listened to the news explaining there had been a fatality,
Our hearts all falling as the bodiless voice told us it was a youth
dead.
A mother and brother survived
but for how long?
We all imagined the grieving in the hospital, perhaps wails
echoing down the hallway.
We all saw in our minds the tragedy reflected in the faces of the staff.
Quiet reassurances, glistening eyes averted, softened voices, gentle movements
trying not to stir the emotions any higher.
We all cringed again as we imagined the mother attempting to return to life,
awakening each morning to the shock of the returning pain of ultimate loss,
a child.
Will it ever end? Will it even get better?
Deep within our souls, we know the answers.
As we all pass, we vow to live our lives with more purpose,
with more love, with more caring.
We are all hurrying home to see our loved ones,
to see that they are still alive, still caring, still there.
I saw two backpacks early in the morning
Sitting among the broken glass and litter
On the other side of the highway.
Two backpacks, filled with tears and sorrow,
Reminders of the fragility of life
of love
of happiness.

Inline Image Not Displayed

Perhaps you remember

Mattie Stepanek

, a favorite guest on the Oprah show until he passed away in 2004

at the age of 14 after a long battle with Dysautonomic Mitochondrial Myopathy

. He was 11 years old when he wrote this poem on September 11, 2001.
For Our World
We need to stop.
Just stop.
Stop for a moment.
Before anybody
Says or does anything
That may hurt anyone else.
We need to be silent.
Just silent.
Silent for a moment.
Before we forever lose
The blessing of songs
That grow in our hearts.
We need to notice.
Just notice.
Notice for a moment.
Before the future slips away
Into ashes and dust of humility.
Stop, be silent, and notice.
In so many ways, we are the same.
Our differences are unique treasures.
We have, we are, a mosaic of gifts
To nurture, to offer, to accept.
We need to be.
Just be.
Be for a moment.
Kind and gentle, innocent and trusting,
Like children and lambs,
Never judging or vengeful
Like the judging and vengeful.
And now, let us pray,
Differently, yet together,
Before there is no earth, no life,
No chance for peace.
© Matthew Joseph Thaddeus Stepanek 1990 -2004, from Hope Through Heartsongs, Hyperion, 2002 Carolyn 9/13/2011
This Site Is All about Reconnecting!
Some of us reconnect by reading classmate profiles and maybe sending off an occasional message or birthday greeting to a classmate. Some may even pick up the phone and call.
Carol Kemp Engelland
took it a step further several weeks ago when she and her husband, Bill, were vacationing in Colorado.
| | |
| --- | --- |
| | |
Carol

remembered that

Graydon Houston

lived north of Denver so she called him. After not seeing each other since

Graydon

left MHS after his sophomore year,

Carol

and

Bill

had dinner in Boulder, CO, with

Graydon

and his wife,

Karen

.
Carol
commented, "I really didn't know
Graydon
very well in high school. We had a marvelous time visiting and catching up. He is excited about helping with the Class of '62 May Day float. He said he always considered McPherson 'home' as he never really liked Great Bend, where they moved after leaving Mac. His mom is buried at the McPherson cemetery; his dad is still living in Oklahoma City and is in his 90s. He told us he has his private pilot's license and it was a thrill flying into the McPherson airport when he and his wife flew there to place the tombstone on his mom's grave."
The
Engellands
didn't stop there! They also made contact with
Jerry and Diane Larson
from the Class of '61, an acquaintance renewed when Carol talked with Jerry at '61's class reunion in August. The Larsons spend every summer at the Snowmountain YMCA Camp of the Rockies, between Granby and Winter Park, as paid part-time employees. Carol says, "We had a great visit and plan to see them when they get back to McPherson in early September."
Reconnecting...at its best!
Carolyn 8/26/11
Wow, What a Great Start to Our Reunion Planning!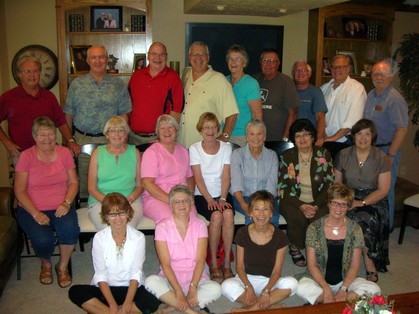 Back row: Dean Elliott, Bill Mills, Larry Morlan (Illinois), Tom Garrelts, Dixie Hays Covington, Gary Peterson, Mike Rausch, Bob Smith, Delbert Sheets (Minnesota); Middle Row: Margaret Burch Zimmerman, Carol Betzen Austin, Mary Ann Walline Scott, Joan Rankin Finney, Carolyn Geiman Wilson (Texas), Sandra Schrag Zerger, Janet Larson Monson; Front row: Janis Sawyer Clark, Deloris Pritchard Shannon, Kathy Holecek Hill, Carol Kemp Engelland (Not pictured: Richard Lawrenz)
Twenty-one of us enjoyed Galva cinnamon rolls, fruit "pizza" made by Carol and Janis, coffee and just such fun at Dean Elliott's house Friday morning, August 5. We really did stay on task, most of the time, as we began formulating what our 50th Reunion would look like next year, referring back often to the results from our recent Survey.
Co-chairpersons for making this all happen are Carol Kemp Engelland and Mike Rausch. Program co-chairpersons are Sandra Schrag Zerger and Larry Morlan. Janet Larson Monson volunteered to coordinate "other" weekend events.
Click here to read the meeting minutes, admirably taken by Bill Mills, to see what we talked about and other decisions made. It was just a start, but a great one! Carolyn 8/6/11
Fellow Classmates Are the Boys of Summer!
Enjoying the sunshine at Kauffman Stadium and sending you "wish you were here" greetings are Royals wannabees and fit, athletic classmates Joe Ledell, Roger Jantz, Delbert Logbeck, Denny All and Ted Helmer. You're gonna need sound for this one! Carolyn 6/10/11
Ah, Yes, We Too Had Our Day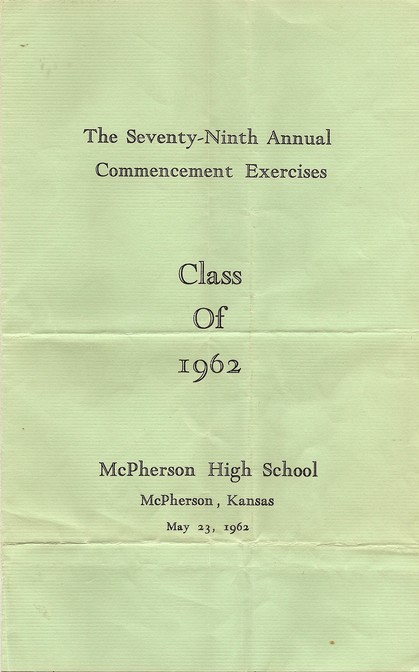 Click on the program above to see what pomp and circumstance ushered us into our adult lives, and to see YOUR NAME. (Lane has remedied the poor quality of what I originally posted so it is now readable. Thanks, Lane!)
The answer to the question in my last email as to who our featured speaker? Dr. James D. McConnell. But here is the real question: Who the heck was Dr. James D. McConnell? If you know, please post it in the class forum, or email me so I can clear up this mystery. Carolyn 5/31/11
May Day 2011 Has Come and Gone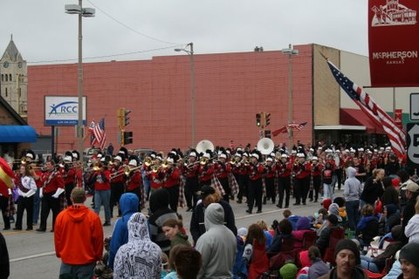 The weather gods did not beam sunshine on McPherson's May Day Parade this year. According to Kathy Holecek Hill, "It was terribly cold and windy. I could hardly work the camera with my fingers freezing. People were under blankets and not walking around much and once the parade got in position, it went fast.
"The '61 float was fantastic and hard to top. Couples were dancing to a live jukebox on float. They had a banner which read 'Kindergarten Class of 1949' - very funny!"
Carol Kemp Engelland also describes it as "...a cold and miserable day. When we got downtown it was 45 degrees, and it was 48 when the parade was over. It was misting lightly until the parade started and then stopped. Also, it very windy which made it very uncomfortable."
She says, "I don't know of another town the size of Mac anywhere or any size for that matter that puts on such an elaborate parade. The floats this year were outstanding.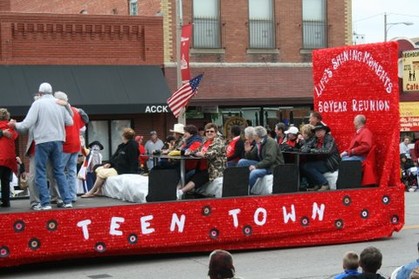 "Oh, Lynn Engel rode on the float with the class...kind of neat! Jim Schoen said it was hard to dance the whole way down Main Street...wasn't in shape!"
Dixie Hays Covington

braved the cold too and took 40 great pictures of the parade.
All pictures are in the Photo Galleries under the "Everything Else" section. See them all
here! Carolyn 5/17/11
Who Was the Fairest of the Fair in 1962?
According to our senior yearbook, each county-town queen appeared in a beautiful costume representing a foreign land, in keeping with the 1962 May Day theme, "Festival of Lands." However...
...Queen Barbara Stucky Ratzlaff is described as being "beautifully garbed in a white formal with white accessories." Maid of Honor Anita Gustafson Link "wore a blue gown of colonial style." Did the other queens wear wooden shoes or saris? Hmmmm. Wish we had a photo of the queen's float so we could see. David Larson was our Prince Charming.
The yearbook also reminds us that the "girls" were chosen by the senior class and that the faculty chose David.
You can check them out in our yearbook below. They all did us proud. Carolyn 5/9/11
In Honor of All Moms
In case you're curious about the true meaning of Paul Simon's 1972 song heard here, click on snopes.com to read all about it. Better yet, just crank up the volume and enjoy this one. Carolyn 4/25/11
How Did We Survive Since Our Moms Were So "Unaware?"
First, we survived being born to mothers who smoked and/or drank while they carried us. They took aspirin, ate bleu cheese dressing and tuna from a can, and didn't get tested for diabetes. Then, after that trauma, our baby cribs were covered with bright colored lead-based paints.
We had no childproof lids or locks on medicine bottles, doors or cabinets, and when we rode our bikes, we had no helmets. As children, we rode in cars with no seat belts or air bags. Riding in the back of a pick-up on a warm day was always a special treat.
We drank water from the garden hose and NOT from a bottle. We shared one soft drink with four friends, from one bottle and NO ONE actually died from this.
We ate cupcakes, white bread, and real butter, and we drank soda pop with sugar in it, but we weren't overweight because......WE WERE ALWAYS OUTSIDE PLAYING!!
We would leave home in the morning and play all day, as long as we were back when the streetlights came on. No one was able to reach us all day. And we were O.K. We would spend hours building our go-carts out of scraps and then race down the middle of the street, only to find out we forgot the brakes. After running into the bushes a few times, we learned to solve the problem.
We did not have Playstations, Nintendos, XBoxes, no video games at all, no 99 channels on cable, no videotape movies, no surround sound, no cell phones, no personal computers, no Internet or Internet chat rooms. WE HAD FRIENDS and we went outside and found them!
We fell out of trees, got cut, and broke bones and teeth, and there were no lawsuits from these accidents. We ate worms and mud pies made from dirt, and the worms did not live in us forever. We were given BB guns for our 10th birthdays. We made up games with sticks and tennis balls and although we were told it would happen, we did not put out very many eyes.
We rode bikes or walked to a friend's house and knocked on the door or rang the bell, or just yelled for them! Little League had tryouts and not everyone made the team. Those who didn't had to learn to deal with disappointment. Imagine that!!
The idea of a parent bailing us out if we broke the law or got in trouble at school was unheard of. They actually sided with the authorities!
Our generation has produced some of the best risk-takers, problem-solvers and inventors ever! The past 50 years have been an explosion of innovation and new ideas.
We had freedom, failure, success and responsibility, and we learned HOW TO DEAL WITH IT ALL!
Thanks, Mom . . . and Dad!
Adapted from www.the60sofficialsite.com by Carolyn 4/27/11
ACT Now: Talent Search Is On!
If you'd like to celebrate upcoming holidays by seeing more singin', dancin' classmates like the Hoppin' Easter one that recently featured
Ed Ollek
and
Anita Gustafson Link
, plus the administrators, please
post a current photo
on your profile. It doesn't have to be a portrait. As long as your face is clearly visible and not too small, we can turn you into a star (with your permission, of course). If you need any help posting photos, we are at your service. NOTE: You will have a chance to preview any video using your photo before it is posted. Carolyn 4/20/11
How high can we get this number? Thanks to
Roger Jantz
and
Maggie Hughes Hayes
for adding photographs, here are our statistics as of 4/24/11. Carolyn
Percentage Of Active Classmates Who Have Added Photos:
25%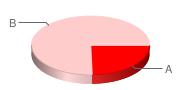 Ed Ollek and Anita Gustafson Link join your administrators in wishing you a hoppin' Easter!
It's a Small World...for Sure!
On February 14, my friend Susy and I were joined by two other women as we sauntered out of orientation at Centro Panamericano de Idiomas Spanish Language School in Flamingo Beach, on the Pacific coast of Costa Rica. We mentioned that we had been sorority sisters eons ago at KU. The younger of the other two women said, "You're from Kansas? So am I! Where are you from?" I replied, "McPherson," and there was a moment of jaw-dropping disbelief when she said, "So am I!" We flu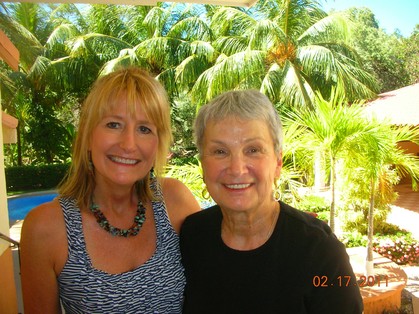 ng our arms around each other and broke into song, singing "Hail McPherson High School" in its entirety to the raised eyebrows of everyone nearby.
My new "friend" was Sue Chisholm Calhoun who graduated from MHS in 1972 and now lives in Minneapolis. Her parents were Emerson and Mickey Chisholm AND her dad and mine were third cousins! The last time I had seen her, she was probably five years old.
There were only about 25 students in the school in Costa Rica, at most half from the U.S., and two of those hailed from McPherson, Kansas. How amazing is that! Carolyn 3/22/11
Classic, then and now
Ed Ollek suggested these videos of The Diamonds singing Little Darlin', first in 1957, then the same guys and the same song 50 years later in 2007. He thought, and I agree, it is apropos of our upcoming 50th reunion. Just like them, we've hardly changed a bit! Thanks, Ed! Carolyn 1/20/11
The Flippers Out Loud
Thanks to Denny Loewen, we all can now hear some great music from the heyday of the Flippers, starring him and Dennes Frederick, and, oh yeah, some other pretty talented guys. Denny even provided some notes about the various songs that make for an interesting read. If you google "fabulous flippers" you'll see a lot of rave reviews about what a sensation this group was in the Midwest in the '60s.
All the Flipper features as well as other cool stuff from our own classmates is stored in the Homegrown Talent link within the Classmates link on the left. Carolyn 1/19/11
Click on the picture below to access the music (click on "Listen to Music" on the pop-up) and read Denny's notes: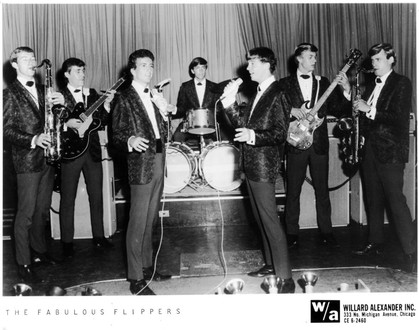 Rare Book Find
Deana Everhart Larson tipped us off to this great story about Janet Larson Monson's historic auction find. The article ran in the 1/1/20/11 McPherson Sentinel:
Janet and Richard Monson spent Saturday, May 8, 2010, as they spend many Saturdays. They went to a local auction for Einar and Elizabeth Jaderborg in Lindsborg, Kansas. Einar had been a school superintendent and his widow, a freelance writer.
As the sale wound toward an end, the Jaderborg's large collection of books came up for sale. Boxes of books were scattered under a shade tree in the Jaderborg's front yard. Buyers could select a particular book, or they could choose an entire box of books. The Monsons, who were planning a trip to Sweden, bought a two-dollar box which they noticed happened to contain a Scandinavian travel book. Little did they know what other prizes were in that box.
After sorting through the box, the Monsons decided to bring some books which they did not want along to the Augustana Heritage Association "Gathering" that was being held in Rock Island, Illinois, the first weekend of June 2010. There they could make these books available to interested collectors, especially those that could read Swedish. And in fact some great connections were made between certain old books and those interested in those particular volumes.
Virginia P. Follstad, an author and professional librarian, saw on the "free" table Volume 7 of Blommer vid Vägen (Roadside Flowers), a series published in America for the Swedish emigrants that featured stories for children. Follstad checked to see which libraries held this series in their collections. She learned that the National Library of Sweden in Stockholm had earlier copies of the series in its collection, but not Volume 7. The Antiquarian Acquisition Librarian was pleased to accept this gift to add to the national collection.
In addition to the first book, another book caught the librarian's eye, Nytt Bibliotek för Barn och Ungdom (The New Library for Children and Youth). This book is held by very few libraries, according to Follstad, and she found that this volume was missing from the Special Collections at the University of Minnesota. The curator was delighted to include it in the Dahllöf Collection of Swedish Americana housed at the University.
Elizabeth Jaderborg, who now resides with one of her two daughters in Chicago, Ill., has been notified of her significant contribution to the ever-growing Swedish-American legacy. Carolyn 1/20/11
Celebrate the Journey
Monday, February 17, is Martin Luther King Day (1/15/29-4/4/68). What were you doing on April 20, 1963, when he gave his famed "I have a dream" speech on the steps of the Lincoln Memorial in Washington, DC? Or when he was assassinated nearly five years later?
This is a great
tribute
to his legacy, published 1/14/11 on an ESPN website.
We have been witness to this journey during our lifetimes. Growing up, we have to admit that our exposure to diversity was extremely limited.
Think you could top this in 2032, at age 88? Incredible!
| | | |
| --- | --- | --- |
| | TWO New Year's Babies in Our Class | |
Happy Birthday to John Turner, the oldest member of our class, and Larry Morlan, the youngest member of our class. Both were born on New Year's Day, but John was born in 1944 and Larry in 1945. At least this is what I gleaned from their profiles, and I have no information about the birth dates of classmates who haven't yet joined our site, but still, this seems worth celebrating! Carolyn 12/27/10
Classmates Helped 9 Children in McPherson Have a Merry Christmas
Thanks to four of our classmates who contributed a total of $290 to the Angel Tree, the following children in McPherson will have new, warm clothes this Christmas: Aaliyah, 5 mo. (girl), Elijah, 1 (boy), Kinsey, 4 (girl), Darriene, 6 (boy), Rebekah, 9 (girl), Katelyn, 10 (girl), Hardian, 12 (boy), Jonah, 12 (boy) and Jessica, 12 (girl).
From the McPherson Senior Center: I want to thank you so much for thinking of the Angel Tree as a class project. We served approximately 600 children this year for Christmas. Please let everyone know how much this has meant to our community.
Perhaps next year we can help once again. Carolyn 12/23/10
Anywhere, USA
What I Learned from a Snowman
It's okay if you're a little bottom heavy.
Accessorize! Accessorize! Accessorize!
It takes a few extra rolls to make a good mid-section.
It's OK to be flaky once in a while.
Avoid yellow snow.
When life gives you snow, make snowballs.
There's no stopping you once you're on a roll.
Just like snowflakes, each person is unique.
Don't get too much sun.
It's fun to hang out in your front yard.
You know you've made it when they write a song about you.
The key to life is to be a jolly, happy soul!

Are These Part of Your Christmas Memories?
Do you remember standing there waiting for these to start bubbling, in awe and wonder just like the little girl on the box? And sometimes having to tap them to hurry up the process?
Noma introduced these lights in the U.S. in 1946. And you can "buy them now" on eBay for just $85.00. Carolyn 12/9/10
Or These?
In loving memory of all those festive hours (and hours) of hanging them one by one on the tree, with cheerful family exchanges such as, "She's throwing them on!" and "No, I'm not, you're breaking all of them." And at some point, "Can we be done now?"
Yet when the lights were turned off and just the tree was lit, they were dazzling, weren't they? Miss them? Me neither. Carolyn 12/13/10
Let it Snow!
Class of '62 Angel Tree Project
I hope you will join our classmates in providing new clothing to children (infants through 8th graders) in McPherson this holiday season by sending a donation to the Angel Tree. Our donations will be pooled together and a sign put up by the tree at the Senior Center indicating how many children the MHS Class of 1962 helped.
It takes $25-30 to buy for one child/angel, but you can contribute any amount you wish. Last year, more than 600 children were supported. What a difference we can make collectively! Send your check to arrive no later than December 9 to:
Resource Council Angel Tree
(payee)
(Put MHS Class of 1962 on the Memo line)
After the holidays, the agency will let us know the first names and ages of the children who received our gifts. Carolyn 11/9/2010, rev. 12/2/2010
Jay Frazier and the Miracle Fig Newton Cure
Our teachers were normal people? This wonderful story about a "cure" for Jay Frazier's legendary hives is an excerpt from Corn Cobs and Skunk Skins: An Autobiography, 1993, by John Colyn, our junior high science guru. Thanks to the Class of '61 for first posting this on their website. AND, as of the moment of this posting, there are 3 of these books available on amazon.com!
During the late fifties, the American education system was shaken by the Russians firing Sputnik into orbit. New emphasis was being placed on science education. The newly organized natural science and conservation class was gaining publicity and recognition. A science professor at Emporia State Teacher's College, Dr. John Bruekelman, encouraged me to apply for a National Science Foundation study grant. I made an application and was accepted for three summer school sessions toward a M.S. degree in biological sciences. Most of those accepted were high school biology teachers, and here I was thrown into this kind of competition with an industrial arts degree and no advanced biology, math, or chemistry.
During those summer school years, we stayed in a basement apartment in Emporia. Jay Frazier and I were both going to school on a NSF Summer Scholarship. Some of the other teachers attending summer school who stayed with us in the apartment at different times were Red Bender, George Keim, and Lyle Goering.
As a boy, I often tried to imagine what it would be like to be an adult. Now I know. Adults are just grown kids. We really found that out while living in that basement during those summers. I don't exactly remember how it all started, but soon tricks were being played and then someone pulled another trick to get even for the first one. Itching powder found its way into some beds on one occasion. Red Bender got blamed for that, and (to get even) we (blacked out) the basement removing all the bulbs and waited for his late return from the library. Finally, we heard him coming. To get to our bedroom, there was a maze of narrow hallways. We had placed obstacles all along the hallway, and every time he would bump into something, we'd hear him chuckle. Finally he arrived at his destination and found the light bulbs in his bed.
We decided it was Jay's turn for a trick. We often played pinochle into the night and on a couple of occasions got so noisy the neighbors had to come to the window to quiet us down. Jay liked fig newton cookies and it wasn't unusual for us to eat a whole package while playing a game. We decided to get a new package of fig newtons, load half of them with Ex-Lax, and plan a big pinochle game early in the evening. We carefully replaced the loaded cookies in one end of the package. Everything was working out perfectly. Jay was ready to play pinochle and was hungry because he had skipped supper. We got out the fig newton cookies, and began playing and eating cookies until they were gone. Jay ate out of one end and we ate out of the other end. Later in the evening, Jay said he had taken some new pills for his hives and he felt like they were really beginning to work. The stool in the bathroom sat right out in the open and was really a throne because one had to go up three steps to mount it. Jay was now making regular interval visits and blaming it all on his new hive medicine. Well, Jay spent much of the night on the throne!
The next morning on the way to breakfast Jay said, "I sure didn't know those pills would react that way, but I feel a lot better." While we were eating breakfast, Jay went for a hot cup of coffee, and upon his return he found the empty Ex-Lax box lying on his tray. Jay slowly looked from the empty box to our guilty faces, realizing for the first time why those good old fig newtons had a chocolate flavor.
Carolyn 11/08/10
Ghosts in McPherson?
So they say, "they" being the internet, so it must be true. Actually, I found these stories on several sites. That's confirming, except the stories were almost word-for-word identical, and that's a bit spooky.
How did we miss the first one, a ghost roaming the halls of our own MHS? Apparently a WPA worker was killed during the construction of the school, possibly in the auditorium, though stories vary. Over the years, many teachers have allegedly reported hearing strange noises, footsteps and movements late at night or early in the morning when no one else should be there. Woooooooo!! Anyone have any stories to share about this one?
The second is easier to believe as it takes place at the Cedars, obviously rich in ghostly possibilities. It seems that one of the past residents of the south unit used to walk up and down the halls with a funny little hat on. Doesn't seem so bizarre yet, does it? But years after this particular resident died, new residents who had never met him reported that some nights they saw a figure with some type of hat on roaming from room to room, a sighting also reported by the staff on the night shift. Does this sound like one of your dearly departed relatives?
The last story is really sketchy, stating that "there has been a presence felt by theatre students working late at night" in McPherson College's Brown Auditorium. No date was given, so maybe you can check this one out.
If you really want to delve into ghostly Kansas though, you should visit Atchison, proclaimed to be the most haunted town in Kansas as well as one of the most scenic and historic. This old town once played host to over 1600 wagons per day as settlers made their way west en route to the gold fields of California in the 1850s. Grand Victorian homes with carriage houses recall glorious days when wealthy lumber merchants and railroad magnates walked the streets. Apparently, some still do. The Travel Channel even did a special called "Haunted Town" that depicted many of the haunted places in Atchison, including Sallie's house, Benedictine College, and more. If you go, take the tour, but don't go alone! Carolyn 10/24/10
The Birth of Teen Town
Who knew? The concept of Teen Town originated in Margaret Starks' (1909-1994) English classes in 1953, according to the following article published in the Salina Journal on 9/3/1961. The article was written by John Matson, son of Helen Matson (1906-2009), and passed along from Bugs Patton to David Link (both Class of '61) to Anita Gustafson Link to Carol Kemp Engelland. It makes me wonder who else has great information we could share on our site! John's obituary is posted following the article, since many of us either knew him or knew of him. Carolyn 9/18/2010
McPherson Youngsters Build Their Own
Can teenagers today dare to dream?
Can they dare to bring those dreams into reality?
The cynic will answer no.
The teenagers of McPherson will answer yes. They've seen it happen.
In 1953 a sophomore English Class at McPherson High School dared to dream. Today its dream is a reality for more than 300 McPherson teenagers. The dream was a youth center. The reality is Teen Town.
Teen Town is the center where McPherson High School students gather to dance, play table tennis, and visit with their friends. The money to start Teen Town was collected largely by students and the center is run by the teenagers themselves with occasional help from the local recreation commission.
The Teen Town story began in the spring of 1953. The sophomore English class of Mrs. Loyde O. Starks was engaged in a round table discussion on "how to improve McPherson."
As Mrs. Starks recalls, one suggestion was for a place where high school students could gather. The students realized that they would probably graduate before a center could be established, but they set to work, anyway.
With the help of local businessmen, the group built a float for McPherson's annual May Day parade. The float carrying the slogan "We Want a Teen Town" won a $15 prize and the money went into a no-checking account at a McPherson bank.
Later that spring a paper drive netted the group almost $100. In the fall, a play, "Finders Keepers," was presented. Businessmen paid all expenses and Mrs. Starks donated her time to direct the production. The play brought in about $900.
When the group had raised $1000, it applied to the recreation commission for assistance. With the help of the commission, the dream moved slowly toward reality.
The members of that sophomore English class graduated in May of 1955. But by then the second floor of a downtown store had been rented and remodeling was underway.
In October of 1955, Teen Town opened its doors at 301½ N. Main. It's at the same location today.
Teen Town is open Tuesday, Friday and Saturday nights during the school year and Tuesday and Friday nights in the summer. It is turned over to junior high school students several times a year.
Teenagers have the use of a large dance floor, a table tennis room, a TV room and a snack bar. Mr. & Mrs. Lynn Engle joined the group in 1956 as advisors. Parents act as chaperones.
In 1959-60 Teen Town had 331 members and an attendance for the year of 13,960, up from 11,253 in 1956-57. Attendance so far this year is about 12,000.
Money to keep Teen Town going during the year is raised by sale of membership cards and the sale of candy, baked goods, and flags.
TEEN TOWN wouldn't have been the same without Lynn and Patty (1931-2008) Engel. Eternal thanks to them both!
John Matson, 61, a Greenwich resident, died Monday, July 8, 2002, at his home. He died of pancreatic cancer, according to his family. Born Sept. 17, 1940, in McPherson, Kan., he was a son of Helen Matson of Irvine, Calif., and the late Edwin Matson. Mr. Matson litigated major securities and negligence cases, managing the Ernst & Young litigation department. During his 25 years with the company, he was an adviser to the senior management of the principal practice units and supervised up to 40 lawyers and outside counsel in cases involving hundreds of millions of dollars. After retiring, he worked as a legal volunteer assisting companies and needy individuals. In 1989, he appeared before the Supreme Court in Reves v. Ernst & Young. The case helped establish the legal definition of a security. In 1992, he helped establish the extent of third-party liability for auditors in Biley v. Arthur Young & Co., a landmark professional negligence case, and in 1985 he tried one of the few Section 11 cases of the 1933 Securities Act that have come to trial. He represented his firm before the Securities and Exchange Commission and other federal, state and professional regulators. Mr. Matson earned a bachelor of arts degree with honors in history from Northwestern University in 1962 and a law degree from Harvard in 1965. Before joining Ernst & Young in 1976, he was an associate and later a partner in Fleeson, Gooing, Coulson & Kitch in Wichita, Kan., from 1968 to 1976, and Ross & Hardies in Chicago from 1965 to 1968. Besides his mother, he is survived by his wife, Jane Finn of Greenwich; a son, Jason Matson of Atlanta; and a daughter, Morgan Matson of Los Angeles. There will be no calling hours. A memorial service will be held at 11 a.m. Thursday at St. Michael Church, 469 North St., Greenwich. Interment will be private. Contributions may be sent the John E. Matson Memorial Fund, Harvard Law School Fund, Harvard Law School, Alumni Center, 125 Mount Auburn St., Cambridge, MA 02138, Attention: A. Stuart. Leo P. Gallagher & Son Funeral Home, 31 Arch St., Greenwich, is handling arrangements.


Lenny, you probably weren't expecting fanfare when you joined the site, but you put us at the 50% mark of classmates who graduated with us and are now members. Woo Hoo and Welcome! And while we're at it, the other milestone classmate, the 50th to join the site, was Delbert Sheets. A second Woo Hoo! All this is leading up to our 50th in 2012! Carolyn 9/23/2010
Will Rogers' Advice on Growing Older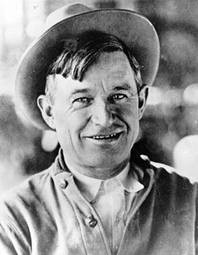 First, eventually you will reach a point when you stop lying about your age and start bragging about it.

Second, the older we get, the fewer things seem worth waiting in line for.

Third, some people try to turn back their odometers. Not me, I want people to know "why" I look this way. I've traveled a long way and some of the roads weren't paved.

Fourth, when you are dissatisfied and would like to go back to youth, think of algebra.

Fifth, you know you are getting old when everything either dries up or leaks.

Sixth, I don't know how I got over the hill without getting to the top.

Seventh, one of the many things no one tells you about aging is that it is such a nice change from being young.

Eighth, one must wait until evening to see how splendid the day has been.

Ninth, being young is beautiful, but being old is comfortable.

Tenth, long ago when men cursed and beat the ground with sticks, it was called witchcraft. Today it's called golf.

And finally, if you don't learn to laugh at trouble, you won't have anything to laugh at when you are old. Carol 9/5/2010
Way to Go, McPherson County!
- McPherson Sentinel, 8/27/2010, by Sean Wardwell, Staff Writer
McPherson County was named the 18th least economically stressed county in the country, according to the Associated Press Economic Stress Index released earlier this month.
The index is based off statistics gathered in June of this year. According to the AP, the index, "...measures the relative impact of the recession and its recovery by integrating the cumulative effects of three economic indicators: unemployment, foreclosures and bankruptcy." It assigns a ranking from zero to 100, with the latter number being the worst case scenario. McPherson County scored 5.29. The least stressed county in the nation, Ward County N.D., scored a 3.85.
According to data from AP, McPherson County, population 29,044, has an unemployment rate of 4.6 percent, a foreclosure rate of 0.01 percent and a bankruptcy rate of 0.71 percent. In October 2007, the county had a stress index of 3.29 percent.
Just Four Months Later . . .
On April 21, 2010, Lane Yoder, who was our Senior Class president, you may recall, logged onto classcreator.com, forked over his credit card, and launched this website for all of us to enjoy.
We were the third MHS class to enter this digital world. I guess the younger kids are still a little internet-shy! And here is how we are all doing:
Class of 1960 - 74 members - 66.7% of class
Class of 1961 - 3 5 members (but not yet really launched)
Class of 1962 - 60 61 62 members - 46.9% 47.7% 48.4% of class (We also have 7 guest members, but the Classmate count you see on the right only includes those who graduated from MHS in 1962.)
Class of 1963 - 65 members - 44.8% of class
Following in our footsteps is the Class of 1961. Clair Schultis is heading up that effort, and on August 18 he headed east, driving 156 miles from Junction, TX to Cedar Park, TX to get some pointers on where to start. Carolyn 8/22/2010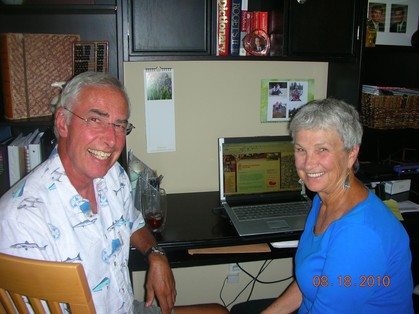 McPherson County Named Best Affordable Place in Kansas
McPherson County has been named the Best Affordable Place in Kansas by businessweek.com. One county from each state was selected to comprise the list of America's Best Affordable Places in 2011.
U.S. Census data shows that McPherson County has a population of 28,851. Just over 5 percent of the population is unemployed, and 28.3 percent of adults have obtained a bachelor's degree. Data also indicates that manufacturing and health care are the main employers in the county, and that the average family income is $64,280.
These factors, along with available amenities and a leading school district, contributed to the addition of McPherson County on the list of Best Affordable Places. From the 6/4/11 Sentinel