ANNOUNCEMENTS
MHS graduates and spouses recently enjoying dinner at the Trails Cafe in Holton, Kansas. Pictured are Dean & Donna Elliott, David & Anita Link, Bill & Carol Engelland, and Larry & Liz Hapgood.
Carol Kemp Engelland 8/16/18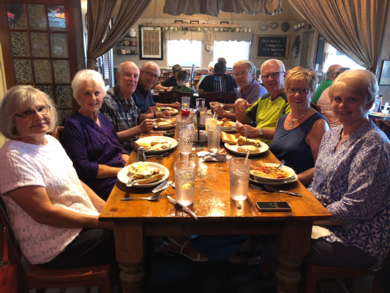 ---
New to the site? If you're a classmate and haven't joined, please do so by moving the mouse cursor over Classmates at the top and then click on Member Profiles and your name. If you were a classmate but didn't graduate from MHS, click on Contact Us on the left to become a guest member. If you would like to know more about what you're getting yourself into, click on All You Want To Know on the left and Sign Up Info. Lane Apr 2010
---
Tired of scrolling and searching? Go to your favorite Home Page topic with a click on a headline below. You can return here by clicking on your browser's back arrow at the top of the screen.
Your Daily and/or Weekly Golden Oldies Fix
---
---
Your Daily and/or Weekly Golden Oldies Fix
You have two options:
1. To hear a 5-song medley of oldies from the 60s that changes every day, just click on the jukebox. Click on the play button when you get to the site.
This link opens in a new window with a new tab. You'll need to go back to that tab to turn it off if you don't want to listen to all five songs! To keep listening while you browse on our site, just click on your tab with the M on it.
2. To hear the weekly #1 song hits from all the years we were in high school, click on Weekly Top Hits 1958-62 in '60s Music & History. These songs change weekly, and they are not archived, so you're going to want to check back every week to get your musical nostalgia fix. Carolyn 4/27/11
---
Click on the covers to open each. Use the right and left page arrows to turn the pages. View in full screen or click again to see even bigger pictures. The whole yearbook runs across the bottom in the full screen mode so you can select any page to view up close and personal. To close, use Escape. Don't worry if it looks like you're leaving it open. It will be closed for each new viewer. Enjoy!
The 1962 Yearbook is below in its entirety.
The 1961 Yearbook actually contains our Junior, Sophomore, and Freshman class photos. Some things in life just follow you forever!

Click here to see all MHS and McPherson Links
---
Our home page has had 82,807 visits since the website began on April 13, 2010. Each visitor is counted only once a day, no matter how many returns are made to the home page. The number is updated here daily.
---
Flag Counter (since 9/6/11). Click on the box for more vital info.
---